Week Three of the Fussy Pumpkin QAL!
Week Three, here we come!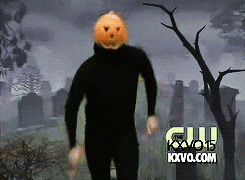 I hope you all have as much confidence as this dancing pumpkin person this week :)
We made half our Fussy blocks last week & this week we're making the other half!
Just like last week - if you're making the Toddler make 3, the Throw make 5, and the Full make 10 (or 11, depending on what you did last time around!)
If you're making your own size I can't tell you how many blocks to make.... but this math is pretty easy 😉
More mix & matching, more stitching & more trimming leaves us with more beautiful blocks. 

I made eleven this week!  
Audrey is making a spooky version with these GORGEOUS dark prints!
Angie said she cut too many (is that even a thing?!)  That navy background sets them off so well!
Rachelle is making hers scrappy! With another dark background (and no optional corner pieces!! I told you it looks good either way 😉)
There's plenty more to see over on the hashtag.  Go check it out!
GIVEAWAY RULES
This week Fabric Bubb is giving away a $35 gift card!  To be eligible, you'll need to do the following:
- follow Fabric Bubb on Instagram
- post a photo of your progress anytime before Sunday 7/6 11:59pm CST under the hashtag #FussyPumpkinQAL
- be 18 or older
This one is open worldwide and a winner will be announced in next Monday's post!
If you'd like to work ahead but have your eyes on a specific prize, I suggest you take photos of your progress & save them to share during that week.
You may enter the giveaways as many times as you'd like during the week, but please use a different photo each time & make sure to follow the rules for that week!

If you haven't picked out your fabric yet, there's still time!
Fabric Bubb, Traveling Dye Co & Hillside Stitches all have bundles specifically curated for this pattern.
The winner of last week's prize is 

Therese

! 
In case you want to check back a bit....
- Intro
- Week 1
- Week 2