Week Four - let's switch it up!
This week we're switching from our Fussy Cuts to Full pumpkins.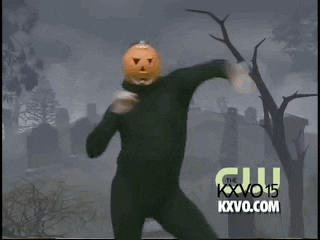 Quick tip!!
I meant to share this last week, but got caught up in trying to make my blocks before my own deadline :)
This is one of my "tips for speed".  Sometimes I only stack & cut 2 or 3 at a time, other times I'll fill my mat & do 9 or 10 at a time. 
The trick is to make sure they're lined up on a cutting line.  If they're lined up properly when you stack them, you don't need to adjust as much while you're trimming!
Place your ruler 1/4" away (shown left) from your stitch line.  If you're worried about over trimming any, place it 1/4" away from the farthest one.  Some of your trims might be a little fatter than usual, but you can leave them fat or trim them down one by one..... although that kind of defeats the purpose of trimming them all at the same time, but if it's only one or two, this is the way to go!
Press hard to cut through the multiple layers of fabric & go to town!
If you're having trouble cutting through, try spacing them out a little more.  Too much overlap = too much fabric.  
It takes practice, but boy oh boy does it speed things up!
On blocks like this I even cut both sides before relining them up for the other two sides!
On to the pumpkin party!
We're switching over to full pumpkins, but the schedule is the same. 
If you're making the Toddler make 3, the Throw make 5, and the Full make 10.
I decided to use my duplicate prints for my 10 blocks this week.
Stephanie is making the sweetest soft coloured pumpkins!
Jeanne is one of sponsors & she is making the most adorable rainbow of Fussy Pumpkins with fabric she dyed!
Vicki is embroidering the centers of hers.  So smart & cute!!
Nina is using a marvelous mix of fall fabrics.  Makes me want a big cup of apple cider & an oversized sweater!
Therese is using some Spooky & Sweet fabrics for hers!! 
There's plenty more to see over on the hashtag.  Go check it out!
GIVEAWAY RULES
This week Amber of Gigi's Thimble is giving away a copy of her book!  To be eligible, you'll need to do the following:
- follow Amber on Instagram
- post a photo of your progress anytime before Sunday 9/13 11:59pm CST under the hashtag #FussyPumpkinQAL
- be 18 or older
This giveaway is open worldwide.  A winner will be announced in next Monday's post!
Last week's winner of Fabric Bubb gift card is Lois!!
If you'd like to work ahead but have your eyes on a specific prize, I suggest you take photos of your progress & save them to share during that week.
You may enter the giveaways as many times as you'd like during the week, but please use a different photo each time & make sure to follow the rules for that week!

If you haven't picked out your fabric yet, there's still time! These next two weeks are the quickest assembly!
Fabric Bubb, Traveling Dye Co & Hillside Stitches all have bundles specifically curated for this pattern.
In case you want to check back a bit....
- Intro
- Week 1
- Week 2 
- Week 3